High-performance interface ISDN E1 NT-COM 8E1 USB module
ISDN E1 NT-COM 8E1 USB module provides data exchange in ISDN digital telephony networks using PC-compatible platforms with USB 2.0 bus and Windows / Linux / MacOS operating system. Independent exchange over 8 duplex communication channels (PDH ISDN PRI interface, AMI / HDB3 coding, 120 Ohm twisted pair, ITU-TG.703 standard) with software control of receive / transmit modes, LED indication of exchange status and status display through the Web-interface.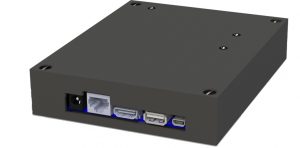 Features
USB bus powered;no extra power supply required
Providing long-haul transmission mode (up to 2 km), with receiver sensitivity up to -43 dB.
Fuses protecting input circuits against overloads and short circuits.
Passive channel monitoring mode. Connection to the line without active signal coupler.
Support for various operating systems without installation drivers.32/64-bit Windows/Linux/macOS
Port Status indication via regular browser. Module current status display. No additional software required to access the module status page.
Module Characteristics:
8 E1 RJ-48 120Ωports, 2048000 bps, ITU-T G.703, AMI/HDB3.
USB Bus - 2.0.
ITU-T G.704 frame synchronization
Short-Haul (300 m), Long-Haul (2 km) modes
Input cascade protection.
Selecting an external port or internal generator for synchronization.
Operating temperature range: -40 ... + 85 ° C.
Dimensions: 120x150x30 mm.
| Catalogue number | Product Name | Retail price (VAT included) |
| --- | --- | --- |
| ISDN E1 NT-COM 8E1 USB | Interface ISDN E1 8E1 USB module | $3900 |